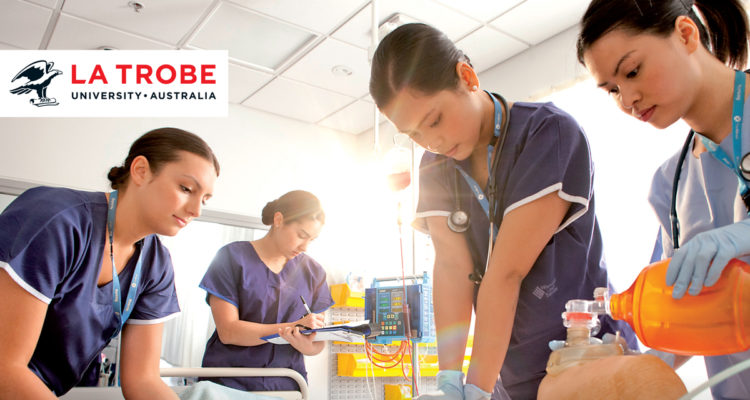 Transition to Bachelor of Nursing
This subject provides students from varied tertiary educational backgrounds foundational knowledge for entry into the La Trobe University BN course to enable them to complete an accelerated/advanced standing BN degree.
The subject is divided into a number of modules; of which the following five must be undertaken by students completing the BN program in Singapore. The primary focus of this subject is the development of comprehensive nursing assessment skills (Module 1). The following four modules then inform the use of these skills in clinical practice and prepare students for successful transition into Bachelor level nursing studies at La Trobe University.
Nursing and Midwifery Research
This subject provides essential research knowledge and students will develop skills in nursing and midwifery research practice. The students will acquire skills required to conduct a literature review for research purposes, address the ethics of research, and examine the history and philosophy of science.
Elements of nursing and midwifery inquiry will include: application of research practice i.e. the identification of a clinical issue or research problem, formulation of a research question or statement, research design and methods.
Nursing Reflection and Consolidation
This subject is a capstone subject within the La Trobe University BN degree. It is offered to Australian based students and Singapore based students.
In Australia, these students are pre-registration and are required to undertake a 6-week clinical attachment, which is worth 50% of their overall subject mark. In Singapore, students are already practicing nurses and will be required to undertake a small clinical audit (or similar) piece of work in their clinical setting instead of the clinical attachment. Singaporean students will primarily concentrate on Subject Intended Learning Outcomes (SILOs) 2 and 3.
Students will be encouraged to explore and implement SILO 1 within their current place of employment and clinical context. Singaporean students will undertake this `double credit point' subject over approximately 22 weeks and there will be 2 x 20 hours of face-to-face contact with LTU academics during this time.
Subject content will be delivered through five learning modules Learning Modules include online learning, face-to-face classes and self-directed reading/study in order to complete the subject's assessment activities.
Nursing Patients with Chronic Illness
This subject builds on the knowledge gained in previous semesters to understand, modify and contextualise the factors impacting on health and wellbeing of individuals, families and communities. The students will develop an in depth understanding of factors influencing population health, the development of chronic conditions and/or disabilities, and complex disease patterns.
Implications for nursing practice within an inter‑professional practice environment and public health policy development form a pivotal component of this subject. The Australian National Health's Priorities Areas and the World Health Organisation's (WHO) Priorities Areas, which include cancer, ischaemic heart disease, stroke, lung disease, diabetes and kidney disease, within a lifespan approach will be used as a basis to identify the needs, health challenges and management of individuals, families and communities. A focus on culturally competent care will be integrated throughout.
Students will be required to reflect on previous clinical experience in order to further develop their knowledge and skills in critical appraisal of public health literature. This includes the critical appraisal of policies and government initiatives addressing the health of the nation, their impact on the individuals, and an analysis of the effectiveness of the models of healthcare management used in various population groups in Singapore.
Other concepts addressed in this subject include: family strengths assessment, health coaching, motivational interviewing, collaborative healthcare systems, and self‑management practices. Students will have an opportunity to critically reflect and evaluate how these skills may advance future clinical nursing practice and deliver evidence‑based, person‑centered nursing care across diverse populations.
Students will be introduced to reflection on and in practice; grief and loss associated with chronic illness, death and dying, and advanced care planning.
Education in Health Professional Practice
This subject explores the relevant foundations and practical issues surrounding the learning and teaching roles experienced by the health professionals in the clinical environment. The subject will examine the foundations of learning and teaching and use these to analyse the factors that can impact on learning and teaching in the practice of health professionals. The subject will scrutinise the learning and teaching requirements of patients and families across the lifespan as well as peers and colleagues.
The impact of different learning styles on the learning will be explored including the identification of how you can maximise your own learning potential. Skills and knowledge will be developed in planning, conducting and evaluating a basic effective education session to promote learning related to skills and/or knowledge with peers and colleagues.
Contexts for learning in health professional practice will be explored including classrooms, clinical environments, interdisciplinary learning and community settings. Practical hands on application
of knowledge and skills is imbedded in the learning experiences and encouraged by the assessment requirements.
Healthcare Ethics and Law
Nursing practice is informed by, and framed within, the principles of law and ethics. The subject begins with an introduction to ethics, including an overview of the ethical theories and principles used in healthcare.
Students are introduced to the law and to the notion of legal systems and will review the sources of law and learn to distinguish between criminal and civil law. The concept of 'duty of care' is explored, along with the potential to breach that duty of care, resulting in negligence. Students will examine the legal, ethical and professional responsibilities of nursing and accountability in nursing practice.
Engagement in Professional Nursing
In this subject students will have the opportunity to extend their knowledge regarding the components that provide a framework for accountable and responsible nursing practice. Students will gain a comprehensive understanding of the importance of competency standards, decision making frameworks, direction and delegation guidelines and the safety and quality framework in relation to professional conduct.
In addition, students will be introduced to the role of contemporary theories of leadership and management, the concept of professional boundaries, health policy, organisational structures, organisational culture. Students will have the opportunity for professional self‑development as the importance of self‑development through the concept of resilience and the advancement of therapeutic communication skills are a priority. Each student's capacity to engage in their professional role across all practice settings will be enhanced by completion of this subject.
---