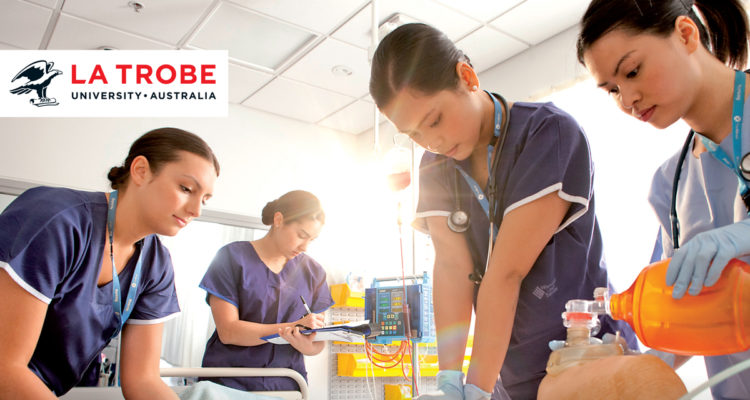 Transition to Bachelor of Nursing
This subject is a transition pathway to the Bachelor of Nursing (post-registration) in Singapore. In the Singapore instance, this subject is delivered across six modules, through lectures, online activities, workshops, and clinical laboratories. Students will further develop foundational nursing knowledge and clinical skills and refine their abilities to undertake systematic health assessments to support person-centred care. Students will also develop an understanding of the clinical reasoning process and the role of research and evidence-based practice in their patient care. Additionally, the subject will enable students to apply human anatomy and physiology to professional nursing practice.
Nursing and Midwifery Research
This subject provides students with the knowledge and skills to engage in evidence-based practice as a nurse and/or midwife. The subject aligns with the Evidence Based Module in the Transition to Bachelor of Nursing (NSG2TBN) subject. Through lectures, online activities, and workshops students will start to think about the origins of varied clinical practices. They will learn to formulate research questions regarding practice that could enhance service, clinician and client outcomes. Students will develop skills to conduct literature reviews for research purposes and learn how to critique the evidence found, and explore the ethics of nursing and midwifery research.
Healthcare Ethics and Law
Nursing practice is informed by, and framed within, the principles of law and ethics. The subject begins with an introduction to ethics, including an overview of the ethical theories and principles used in health care. Students are introduced to the law and to the notion of legal systems and will review the sources of law and learn to distinguish between criminal and civil law. Concepts including 'duty of care', negligence, end of life issues, whistleblowing, resource allocation and conscientious objection will also be explored as students examine the legal, ethical and professional responsibilities of nursing and accountability in nursing practice.
Education in Health Professional Practice
In this subject you will explore principles and practices of education in healthcare settings. You will examine foundations of learning and teaching and use these to meet learning requirements of patients and families across the lifespan, as well as those of peers and colleagues. You will explore the role of education in patient management and health outcomes. The subject examines the influence of education and professional development on patient safety. Skills and knowledge will be developed in planning, facilitating and evaluating an effective education session for patients, families, colleagues or peers.
Nursing Patients with Chronic Illness
In this subject, students will be given an opportunity to generate ways of thinking that enable sustainable access to and delivery of health services to people living with chronic illness. Through the readings, online learning activities, workshops and assessments, students will be consolidating the fundamental knowledge gained from previous subjects to be able to select appropriate public health strategies and models of chronic illness management, promote active engagement with health services among people living with chronic illness and recommend ways to improve the sustainability of health services for people living with chronic illness. As such, it is essential to have knowledge on the disease process of chronic illnesses, familiarity with public health approaches and understanding of interdisciplinary practice environments in the acute, subacute, residential and community settings to succeed in this subject.
Engagement in Professional Nursing
In this subject, students will extend their knowledge of the components that provide frameworks for accountable and responsible nursing practice. Through lectures, online activities and workshops they will explore competency standards, decision-making frameworks, direction and delegation guidelines and the safety and quality framework in relation to professional conduct.
In addition, they will be introduced to the role of contemporary theories of leadership and management, the concept of professional boundaries, health policy, organisational structures and culture. Their capacity to engage in their professional role across all practice settings will be enhanced by completion of this subject. To achieve the learning outcomes of this subject they will be expected to complete a range of written and verbal assessments within a 12-week period.
Nursing Reflection and Consolidation
This subject is a capstone subject within the La Trobe University BN degree. Through online activities and workshops, students will be able to develop and refine their abilities to manage care for a number of complex clients, reflect on their clinical practice and critique the wider practice of nurses. The content builds on previously learnt concepts of person-centred care, situational management, nursing inquiry, therapeutic communication and client education. The focus of the subject is to assist students to develop the repertoire of skills required by contemporary nursing practice and form a foundation for future nursing practice evolutions.
In Singapore, students are already practicing nurses and will be required to undertake a small clinical audit (or similar) piece of work in their clinical setting instead of the clinical attachment. Singaporean students will primarily concentrate on Subject Intended Learning Outcomes (SILOs) 2 and 3. Students will be encouraged to explore and implement SILO 1 within their current place of employment and clinical context.
Singaporean students will undertake this 'double credit point' subject over approximately 22 weeks and there will be 2 x 20 hours of face-to-face contact with LTU academics during this time. Subject content will be delivered through five learning modules (outlined below). Learning Modules include online learning, face-to-face classes and self-directed reading/study in order to complete the subject's assessment activities.
---