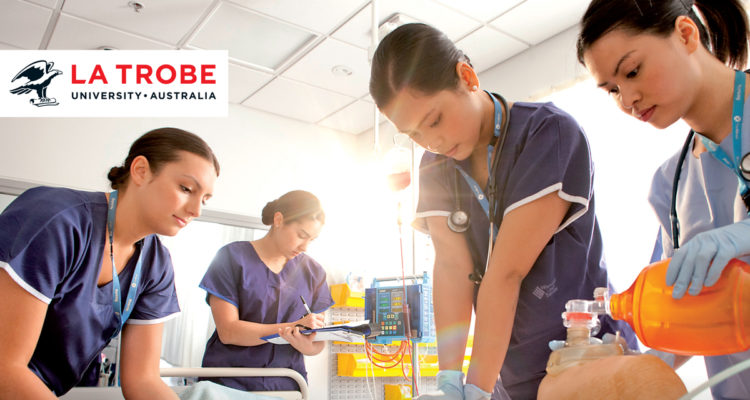 COURSE DESCRIPTION
Started by SNA with La Trobe University, Melbourne, Australia in October 1997, the Bachelor of Nursing (Top-Up)/(Post-registration) has graduated more than 1,000 registered nurses.  This Bachelor of Nursing (Top-Up) is designed to enable Registered Nurses (RNs) with a hospital or diploma qualification in nursing to expand their professional education to a bachelor's degree.  The course consists of core studies and subjects relevant to the context of nursing practice in Singapore.
Students are assisted to expand their knowledge base in the discipline of nursing and apply this knowledge to nursing practice.  They are also provided with the opportunity to develop academic and practical skills, and the attitudes needed to comprehend and evaluate new nursing knowledge in the discipline of nursing.
Graduates of the Bachelor of Nursing (Top-Up)/(Post-registration) course will have a strong discipline base and will be eligible to apply for entry into postgraduate studies
"We aim to transform students' lives through learning. We provide students with a supportive and challenging learning environment in which they can develop their capabilities and skills to become effective, ethical graduates."
~ Professor John Dewar Vice‑Chancellor and President
AIMS OF THE COURSE
The broad educational aims of the program are to prepare graduates capable of:
Providing quality individual nursing care within a variety of healthcare contexts
Contributing to the development of new nursing knowledge
Acting as agents of change for healthcare reform.
At the completion of the program it is expected that a BN graduate will be able to:
Tailor care interventions to the needs of an individual client and their family
Provide quality care for clients within a variety of healthcare contexts and locations
Demonstrate productive, inter‑professional team capabilities
Be able to demonstrate principles and practices of management and leadership including supervising, leading, managing, teaching and delegating to others
Advocate for the patients in their care
Develop self‑motivated lifelong learning capabilities and evaluate the impact of their care
Contribute to the development of nursing knowledge via research and publication
Critically analyse contemporary healthcare services and provide feasible alternatives
Identify strategies for changing healthcare services to meet societal needs.
This eight subject program is equivalent to one year full‑time study and will be offered in part‑time mode over twenty four months.
DEGREE AWARDED
The course is equivalent to the Bachelor of Nursing degree course conducted by La Trobe University in Australia and students who successfully complete the course will receive the same award.
The course is accredited by the Singapore Nursing Board.
PROGRAMME DURATION
24 months (Part-Time)
Course Start Date: 12 July 2021 (25th Intake)
PROGRAMME STRUCTURE AND OUTLINE
This programme is equivalent to one year full time study and is designed to be completed in approximately 24 months over four semesters.
Transition to Bachelor of Nursing
Nursing and Midwifery Research
Nursing: Consolidation Reflective Clinical Practice
Nursing Patients with Chronic Illness
Engagement in Professional Nursing
Education in Health Professional Practice
Healthcare Ethics and Law
Academic Integrity Module (offered to enrolled students at no additional cost)
COURSE DELIVERY
The program is conducted in block mode with face-to-face sessions for both lectures and tutorials, and is fully taught by academics from the La Trobe University. Students receive 164 hours of face-to-face teaching and is further supported by distance learning with study guides, required readings and activities, and assessment briefings for each subject.
Study guides and required readings will be provided.  Students will also receive on-going support from NLH and La Trobe University staff via the on-line Learning Management System (LMS) throughout the course.
The average teacher to student ratio for lecture is 1:60.
ENTRY REQUIREMENTS
**For Registered Nurses (RNs) Only**
Applicants must hold a nursing certificate or diploma from a recognised nursing school
Current nursing registration with the Singapore Nursing Board
Provide evidence of post-registration experience
APPLICATION REQUIREMENTS      (REGISTER IN PERSON):
Please bring the ORIGINAL and 1 photocopy of the following documents:
GCE 'O' Level Certificate (for Singaporeans)
Higher School Certificate/equivalent
Nursing Certificate or Diploma in Nursing certificate from a recognised nursing school
Singapore Nursing Board Registration Certificate and Practising Certificate
1 passport size photograph
Required registration fee (payment via cash, cheque or money order only)
English Proficiency requirements
Pre-registration nursing education in English; OR
IELTS Band of 6.5 with individual bands of at least 6.0; OR
213 with a score of 5 in Essay Writing (computer-based); OR
80 with no individual score less than 20 (internet-based) in the Test of English as a Foreign Language (TOEFL)
Your documents will be reviewed by the school and La Trobe and you will receive a Letter of Offer indicating your acceptance into the programme should you be successful.
You will be required to respond to the acceptance via the Offer of Acceptance Form.
The school will contact you to arrange for the explanation of the Standard Student Contract and payment of course fees before the commencement of the course.
ASSESSMENT SCHEMES
The programme uses both formative and summative methods.  Subjects are assessed by either class presentations, AV assignments, written work and/or clinical skills examination (usually conducted at the end of each subject).
Assignments must be submitted to the University via Learning Management System (LMS) online access.  Students will be informed of their results in writing.
POSTGRADUATE STUDIES
Students who successfully complete the post-registration Bachelor of Nursing course will be eligible to apply for entry into postgraduate studies.
PROGRAMME FEE
The total fee payable is $19,060 (excluding 7% GST) and paid over 4 semesters.  Fee payable per semester is $4765.00.  Payment is due 7 working days before the commencement of each semester.  The fee covers course notes, readings, hand outs, assessment briefings and assessment fees.
Registration Fee – S$53.50 SNA Member, S$74.90 Non-SNA Member
Re-module Fee (if student fails below mark 47/100, he/she is required to repeat the subject) – S$2,382.50 (excluding 7% GST) per module.
*Registration Fees are non-refundable.
*Course fees may be subjected to change.
Fee Protection Scheme (FPS):  NLH has in place a Fee Protection Scheme as stipulated by the Committee for Private Education (CPE) by way of an insurance facility. The appointed FPS provider is LONPAC INSURANCE BHD.
Note: In the event of the minimum number of students not met after the close of registration, the class will not commence.
The Course is accredited by the Singapore Nursing Board (until  September 2021).
Testimonial from a graduate of the BN course:
"The part-time programme offers great flexibility as each module only requires 3 full-day lectures. This is especially important when our line of work is often shift orientated and changes to the roster can be challenging. Lecturers are often engaging and challenges you to apply what you have learnt into context. Assignments and tests are manageable and lecturers are always available when help is required."
  Mr Sherman Lian, Research Nurse, Singapore General Hospital
For Course enquiry and registration of interest, please email: nlh@sna.org.sg